It is predicted that up to 10 million people – almost a fifth of the population – will need mental health support as a direct consequence of COVID-19.
Research by the Centre for Mental Health estimates that about 8.5 million adults and 1.5 million children in England will need support for depression, anxiety, post-traumatic stress disorders and other mental health difficulties in the coming months. Two-thirds of those needing support have existing mental health difficulties and may already be receiving treatment.
These estimates follow a growing body of research raising concerns about the major impact of the pandemic on the UK population's wellbeing. The Office for National Statistics found that almost half of adults (48%) reported that their well-being was being affected by the pandemic. This increased to 81% for those who had experienced some form of depression and/or some form of anxiety.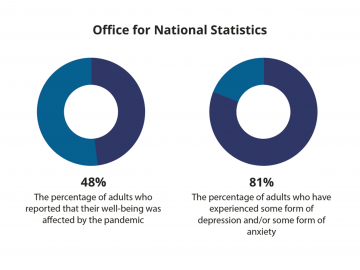 Young people and students have been cited as being particularly vulnerable at this time. Research by the University of Glasgow in October found that between March and May suicidal thoughts increased to 10% and were the highest among young adults (18-29 years), rising to 14%.
Becky Sultana, a social prescriber for Poole North PCN, feels that restrictions aimed to prevent the spread of coronavirus are having a profound impact on the way we live our lives and impacting our mental health. "Young adults, older people, single parents, unemployed or even those in 'insecure' employment, BAME communities, patients with pre-existing mental health problems, and those with long-term conditions have reported poorer mental health, to name a few."
Not being able to stay connected and do the things we enjoy, whether it's going to a group or activity, going to a café or seeing friends and family, has created this increase in anxiety and depression.
Sultana believes the major drivers for poor mental health at this time appear to be a lack of social contact, anxiety about getting the virus, boredom and loneliness.
Lisa Hepworth, a care coordinator for Wiltshire Health and Care, says that while digital technology can help people who are feeling lonely, it is more difficult to make human connections online.
"It is especially hard for people who are not IT literate. I have continued to support people over the phone and outside walks are great as people relax more and talk about their problems in a different way."
Hepworth has seen that older people particularly need to feel valued and have a purpose. This also applies to most groups that suffer from low-level depression and anxiety. "Human connections help as you are more likely to go out if someone comes with you. Fresh air and companionship make your recovery time shorter."
Volunteering
Crispin Blunt, Conservative MP for Reigate, says it is very important during this time that people do all they can to remotely support one another. Community Response Volunteers have been collecting shopping, medication and other essential supplies for people who have been self-isolating. "I know that special provision has been given to provide funds for charities. They will play an incredibly important part in many aspects of this national effort."
Volunteers have been invaluable during the pandemic. With the NHS under pressure, many community groups and charities have seen a large increase in referrals. The current economic situation brought about by the pandemic hasn't helped – job and financial losses, housing insecurity, loss of coping mechanisms and reduced access to mental health services have all contributed to the increased demand on charities.
Alyson McGregor, one of the founders of the Social Prescribing Network, aims to connect volunteers with primary care professionals. She believes that "social prescribing and the power of volunteers and community work could really save the NHS in the long term and improve the wellbeing of the population."
When it comes to changing how we treat mental health, she says social prescribing is not only better for the individual but is also more economically sustainable for the NHS, as it aims to help patients that attend GP surgeries the most frequently.
Government support
Despite being economically sustainable these services still require support from the government. McGregor says "There had been no additional investment in the voluntary sector pre-covid. There has now been attention put on the sector to help it to survive but I think that the government should be investing in these services going forward. They offer a sustainable solution for improving population wellbeing."
The Department for Health and Social Care has said the Government's strategic approach has been to increase mental health knowledge and understanding and encourage individuals to engage in behaviours that protect their mental wellbeing throughout this challenging period. "Mental health services have remained open and are working to support people with mental health problems throughout the pandemic and beyond, delivering support digitally and over the phone where possible."
They also added that the Government recognises the vital role played by mental health charities and the voluntary sector in providing direct support for mental health and wellbeing alongside the NHS. It has provided £5million to mental health charities to support their work during the pandemic and on 22 May, the Government announced that a further £4.2million will be awarded to mental health charities, so they can continue to support people.
The latest Christmas Covid rules mean that residents in tier four will only be allowed to celebrate Christmas with members of their own household and support bubbles. According to research by the charity Campaign to End Loneliness one-in-four adults say they are worried about spending the Christmas period alone due to lockdown restrictions.
If you are struggling with your wellbeing it is crucial to reach out for support. The NHS website has many online resources on stress, anxiety, sleep and low mood. It also has guidance and information on how to help others if someone you know is struggling with their mental health. Charities, such as the Samaritans, Young Minds and Bipolar UK are also continuing to support people experiencing mental health challenges throughout the outbreak.
More from this project: