Black, Asian and ethnic minority households in the UK are over twice as likely to experience income poverty than white households, according to an independent study.
Whilst systemic racism in the education and employment sector has been more widely addressed in recent years, BME organisations across the UK are calling for more to be done to address the disadvantages faced by low-income families in the BME community.
The Runnymede Trust are the UK's leading independent race equality think tank. Speaking to Buzz, CEO Halima Begum said: "Despite the progress that has been made since the Equality Act 2010, the journey towards equality around education and employment remains arduous.
"From the high numbers of black boys excluded from school to the low number of BME business people who have a seat in The Financial Times stock exchange 100 boardrooms, via an ethnicity pay gap that can typically see BME men in white collar jobs paid 20 percent less than their white peers, and BME women discriminated against further still, the challenges were clear even before COVID."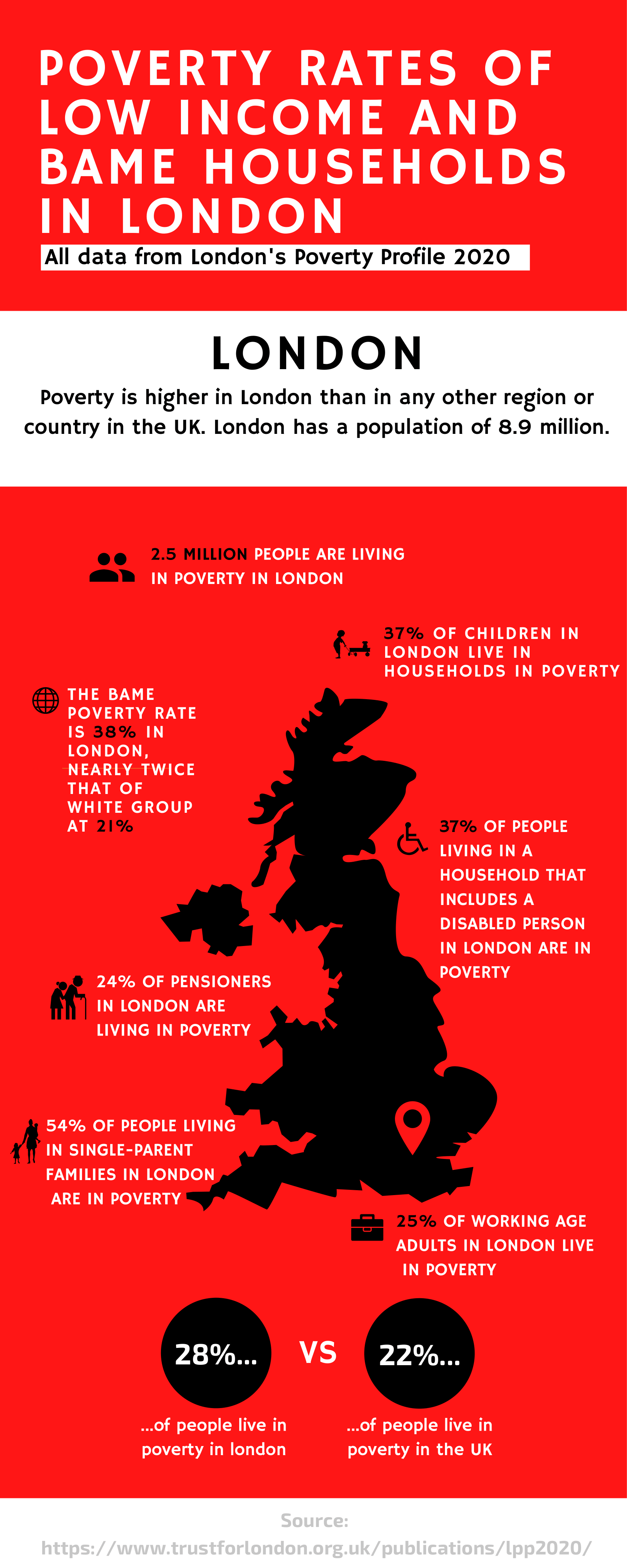 Data by the Trust for London shows that 38% of Londoners from BME backgrounds are in poverty, compared to just 21% of the white London population.
In the north-west London borough of Brent, the poverty rate is 5% higher than the overall poverty rate in London, with 33% of people in Brent living in poverty.
Brent-based BME youth organisation, The Salam Project, has been tackling issues with misled and vulnerable youth in the area since 2005.
The project helps BME youth involved in gangs, knife crime and drug dealing through a mentoring scheme run by a team of 15 volunteers.
Ex-teachers, university graduates and industry professionals tutor vulnerable BME youth to help re-focus their aspirations and get them onto vocational, or accredited qualification schemes- and out of a life of crime.
Buzz spoke to Ismael Lea South, director of The Salam Project, about how working with low-income and vulnerable BME youth is more important than ever. He said: "Around 40% of the parents that come to us are in most cases single-mother households or have been referred through youth organisations, social services or local authorities.
"The mother in most cases, is hardly at home because she is working two part time jobs and so now that these parents and young people are home due to COVID, we are getting more calls because parents are realising that their children are involved in gangs, drug dealing and knife crime.
"Within the household, education is not the focal point. The focal point is getting by without getting in trouble."
Whilst Ismael recognises that there is a link between youth who experience income-poverty and those who fall into knife crime, gangs and drug dealing- he said it was not the only "ingredient".
Ismael added: "Racial inequality, unconscious bias within the schooling system, within local authorities, within statutory organisations, is rampant.
"In some schools, they have lower expectations of young BME people who come from lower-income families.
"When you're teaching in schools, you're teaching hidden gems; uncut diamonds. Your role as the teacher is not to judge them, not to discriminate against them or condemn them, but to empower them and educate them."
The work of organisations like the Runnymede Trust and the Salam Project continue to work by influencing government to push for equal opportunity for disadvantaged BME people.
The Runnymede Trust CEO, Halima Begum told Buzz: "COVID has not only put existing inequalities into stark relief but threatens to entrench them for another generation; most recently we joined up with other organisations in writing to Gavin Williamson to demand that the discriminatory exam fiasco of last summer is not repeated this year to the detriment and disadvantage of yet more BME children.
"Were this to happen, it could have a huge impact on low-income BME students progressing on to higher education and represent a potential ticking time bomb in terms of the long-term discriminatory impact on BME graduates emerging into the job market and achieving success in adult life."
In December 2020, it was reported that The Commission on Race and Ethnic Disparities had extended the 2020 report deadline, following the public response to the Black Lives Matter movement amidst COVID-19 restrictions.
The report is due for submission to the Prime Minister, Boris Johnson later this year.