The Covid-19 pandemic has devastated nearly all aspects of life in 2020, but non-league football has had a far worse impact than most areas of football, and even sport in general.
959 clubs were affected back in March, with seasons either cancelled or expunged entirely. Whilst that saved many sides from relegation, it also denied many promotion, which began the problems that put the survival of many clubs at risk.
With no revenue streams coming in until the return of football, and quite crucially, the return of fans, teams were struggling to make ends meet. Even when fans were allowed back in September, the numbers were restricted to 15% of the capacity of the ground.
As a result, many clubs took voluntary relegation, suspended their season, or resigned from their league. In the worst cases, two teams even folded.
FC Oswestry Town
FC Oswestry Town were one of those teams, as they dissolved in July, along with Leicestershire side NKF Burbage. Just seven years after they succeeded Oswestry Lions, the Shropshire town were once again left without a side in the English league system.
The null and voiding of their season after having such a strong campaign is where their issues began.
"Obviously we were very, very disappointed because our prime target was to get promoted, and we were sitting second in the league behind Vauxhall Motors," said Ian Jones, former Chairman of the club.
"So I think we only needed two or three wins and we'd have gained promotion then to the North West Counties Premier Division, so we were just devastated by that news."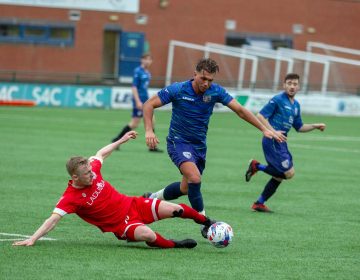 Whilst there was initial optimism about competing again in Division One South of the North West Counties Football League (NWCFL), problems began to arise.
The relationship the club had with Welsh side The New Saints (TNS), who played their home matches in Oswestry and held tenancy over FC Oswestry's ground, had a distinct impact on this.
"So I think we only needed two or three wins and we'd have gained promotion then to the North West Counties Premier Division, so we were just devastated by that news."
TNS would usually give FC Oswestry some financial backing and the loan of several senior players. However, once the pandemic hit they weren't able to confirm financial support for when football restarted. Also, Under-18 players were only offered on loan instead. These players were "deemed not good enough" to play at NWCFL level.
The financial situation for FC Oswestry had been made far trickier. This then coupled with manager Nathan Leonard departing, due to the struggles of planning for the upcoming campaign, put the club in a difficult position.
"It wasn't that we were bankrupt or anything like that. It was a case of how would we be able to prepare and would be able to compete," said Jones
"And we were finding it difficult, obviously with the uncertainty, to attract big sponsors. You can't sell your brand if you can't guarantee to play football, it's a bit of give or take."
Jones revealed that due to the difficulties teams in the NWCFL have had to simply hold matches this season, that in hindsight it probably "was a good decision" to fold.
Many teams who did suspend their seasons would have also felt justified in their decision, due to the limited numbers of fans allowed in.
Merthyr Town and the Tier System
Welsh side Merthyr Town were one of those suspend their season, after finding themselves in a unique position.
As they played in Wales they faced different restrictions to English non-league sides. In September, when the Southern League Premier Division was planning to restart, they would have been the only club in Step 3 not allowed to have any fans attend home matches.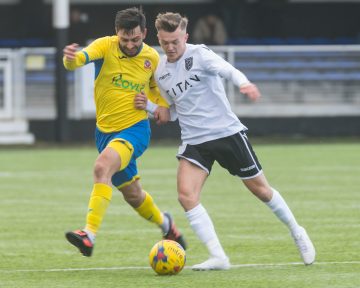 Board members voted to suspend their season, with the guarantee that they would keep their place in the league for the 2021/22 season.
"We established quite quickly that the reserves that we had in hand to enable us to pay the playing staff would run out by the end of November/early December," said Robert Davies, board member at Merthyr.
"We would be on the cusp of possibly going into administration or alternatively telling the players that the money's not there for them to be paid."
Many clubs could be facing a similar financial situation to Merthyr in the near future, due to a Tier system that the Government has implemented to control the spread of Covid-19.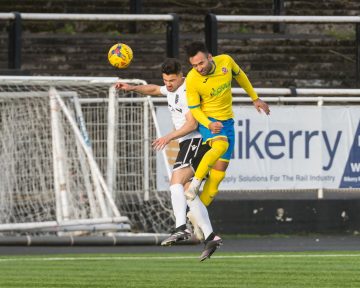 When the second national lockdown ended in December initially the highest category was Tier 3. This meant that Non-League clubs in Steps 3-6 would have been forced to play games behind closed doors. This was changed in mid-December to allow sides to have fans up to 15% capacity in their stadiums.
However, by Boxing Day most of the South and East of England will be in the more severe Tier 4 area. Restrictions similar to lockdown conditions are in place here. As a result non-elite football games and training cannot take place. Only the National League at Steps 1-2 can continue, as they count as 'elite sport'.
Once again, the financial status of non-league clubs is in peril.
Uncertainty over the future of non-league football
Ollie Bayliss, a journalist who covers non-league football extensively, believes that the restrictions in the Tier system could pose a threat to many clubs.
"We could be seeing the beginning of the end for quite a lot of non-league teams in the coming weeks and months," he said.
"They've had a tiny bit of revenue over the first couple of months of the season, and that's been stopped, and it looks like it's going to be stopped going forward for quite a long period of time.
"I think non-league is in a really perilous position and I don't really think much attention has been paid from the bigger clubs, and probably those in the media as well.
"I think now we're coming to a point where they are really at risk of going under in this current system," he added.
Already the Tier system has had an effect, with numerous leagues being suspended until January or indefinitely. This includes the Southern, Northern, Isthmian, Wessex, Eastern Counties, Southern Counties East, Spartan South Midlands and Southern Counties Combination leagues.
The uncertainty of when their seasons could restart could see clubs going over the edge unless serious financial support is offered.
More from this project: