"Without social media, my business would be nothing."
These were the powerful first words uttered by Eva Malley, a 21 year old student from Brighton that I interviewed about her online illustration shop. Eva sells her work on prints, totes and clothing among other things, and it is now her full time job, alongside her university studies. 
View this post on Instagram
Working tirelessly since lockdown, Eva communicates to her followers that she has made an excess of six figures in sales in just 9 months. 
Though a one woman band, Eva dedicates her success to one thing; social media, and in particular, Tik Tok. 
TIK TOK
"Social media being a free thing that you can do for your business is amazing. You don't have to pay for promotions. All you have to do is show up and show your products."
Originating from three separate apps, the free app Tik Tok was released in its current form in 2017, but had its most downloads in one month in March 2020. Across several app purchasing platforms it was downloaded a concurrent 115 million times. 
Its algorithm is unlike any to come before it, with its interface and main screen (the 'for you' page) collating an unlimited stream of videos that it thinks you will enjoy based on your previous engagements on the app. 
This means that unlike other social media such as Facebook and Instagram, the posts you see aren't necessarily from accounts or 'influencers' that you follow or have chosen to see. Meaning you are constantly introduced to new creators. Accounts you follow could appear in your 'for you' page but are most commonly found in the 'following' section.
This is different to media where followers have always been thought of as the most important metric. On Tik Tok, views takes its place. For entrepreneurs, views are likened to imagining the amount of views you get being the amount of people that walk into your independent shop or cafe. It has the same effect. And with Covid-19 being set to cost small business owners £11,799 on average this year, according to 'Simply Business' Report, it is no wonder many have turned to social media as their hero. 
A level playing field
Young entrepreneurs who know their way around social media already can use this to their advantage as Eva Malley suggests,
"You have an unlimited amount of customers out there and Tik Tok is such an amazing platform because you can start with no followers and go viral overnight."
It's a level playing field for everyone that signs up. After my first one got good views, I just thought, this is where I am meant to be"
Eva states that though a majority of new customers find her through Tik Tok, she prefers to direct them to her Instagram. 
Due to Tik Toks fast paced nature, with videos being no more than 60 seconds long, Eva believes it is best used as a showcase of products, whereas Instagram, is more suited to going into more depth; having a conversation with people and creating a bond with customers. 
"I see more new customers on Tik Tok, and repeat customers then join me on Instagram. So Tik Tok's, just like a 'hi this is me, follow me' and then Instagrams, like, okay, let's sit down and go through everything."
INSTAGRAM SHOPPING
As well as being a more interactive experience than Tik Tok, Instagram has recently plunged itself into the ecommerce world. 
Instagram Shopping was introduced in the UK in an update in March 2018, and made into a menu shortcut for easy access in November 2020. In 2018, photos of items that were for sale could now have those items tagged in them. 
The update was a bold move to many, as it replaced the 'notification' option with an option to view things on sale you might like, and seemed to be a defiant shift in Instagram's priorities. What was once a sharing app amongst friends and family, now seemed to be taking a commercial turn.
A welcome update
For small businesses however it is a welcomed tool. With coronavirus forcing everything online, a tool that made tangible products more accessible is anything but a negative. 
With job losses high amongst the pandemic and many people turning to running their own online small businesses, perhaps this was Instagram's way of recognising that its consumer demographic had changed.
In a study I conducted, 96% of people aged 18-26, had recorded seeing a rise on social media of new start up businesses.  This reinforces that perhaps the change is necessary.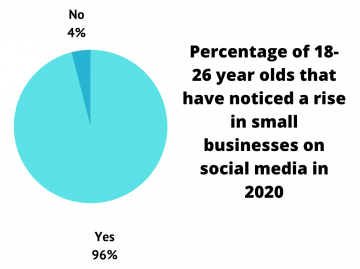 The update comes amongst a host of other changes for the site in recent years. The changes keep entrepreneurs on their toes.
Jemma Crossley, 20, runs her own Etsy shop selling handmade earrings, that she created in March 2020, when the UK lockdown began.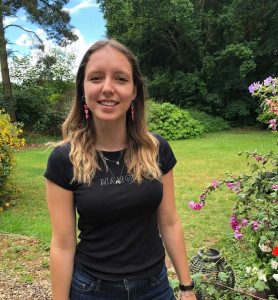 Promoting her business on social media (@jemsjewellery_)was to her the perfect way to explore all social medias offerings. It taught Jemma about the platform through experience. 
"I've learnt a lot of skills. My only experience before this was selling things on Depop. Now I've done things I really wouldn't have done otherwise. I'm a lot more savvy on Instagram than I was. I was not up with the 'Stories' and other features. I did a 'Reel' yesterday, so that's new territory."
A modern day hero
With lockdown meaning a downturn for independent businesses and the idea of the high street, and an estimated 234,000 Small to Medium sized enterprises (SMEs) (Simply Business) already having been forced to permanently cease trading, social media has been the saviour for some of those that have managed to stay afloat. 
It yet again proves that this is an ever evolving industry, with formats and analytics for all purposes. So could this be the future of business as we know it? 
To learn more about young female entrepreneurs in the coronavirus pandemic, see below.