The Vitality monster lives in a Victorian park and is the home of AFC

Bournemouth.

Hugged by huge red girders like  a scene from War of the Worlds, e

mbraced by cherry trees

and 

lost in a dated car park

.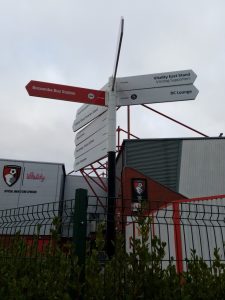 Originally known as Dean Court, the Vitality Stadium has always been breaking ground.
After a dramatic turnaround from close to going out of existence, the Dorset club found itself playing in the top flight in 2015.
Steve Cuss, Head of Community for AFC Bournemouth, said: "Way back, there was talk about whether Bournemouth would be allowed in the Premier League because of the size of the stadium."
AFC Bournemouth had the smallest arena in the Premier League (11,000 capacity) – and the club extensively invested in a superb playing surface.
SIS turf matters
Before the installation of underfloor heating, the pitch was maintained in all weathers and some matches were cancelled due to the rock-hard ground. 
Following the stadium rebuild in 2001, synthetically stitched panels were introduced for optimum Premier League performance.
Remembering sparse grass
BBC sports reporter for AFC Bournemouth, Jordan Clark, remembers his occasional Academy days at the old Dean Court. As a youth, he was in awe. He said: "It has always been a huge pitch."
 The then head groundsman at Dean Court, John Harris, would not allow anyone on his pitch. Jordan retold stories of Mr Harris chasing Eddie Howe off the pitch with a pitchfork.
 Jordan also relays a memorable "stitch up" using the game show Gotcha hosted by Noel Edmonds when molehills, explosions and diggers were placed on the turf. Mr Harris was horrified at the thought of his beautiful pitch being pulverised. 
Since Mr Harris's days of repairing sparse grass-like alopecia patches, under-floor heating has been in place since 2015. It brought an end to knee-splitting work and abuse from forty-four boots. It also gave the grass a chance to recover.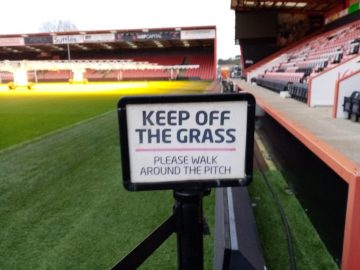 When AFCB went into the Premier League, the revolutionary SISGrass system was rapidly stitched into the existing turf surface in ten days. 
Steve Cuss said: "Its great to see the rain and at the moment the pitch is raised so that it doesn't flood. We  also have artificial lighting installed, so that the grass grows in the winter. We have about six groundsmen that cut the grass twice a week and in the practice area."