Last night, Bournemouth Symphony Orchestra premiered Chary Nurymov's Symphony No2 at Poole Lighthouse. 
Conductor Kirill Karabits, now in his thirteenth year with BSO, performed the symphony after a brief talk to the excited audience.  
The symphony, Karabits told the crowd, combined the themes of violence with peace.  
The themes related to the orchestra's ongoing Voices from the East influence. 
Nurymov was from Turkmenistan; a country isolated both culturally and politically. 
The talent and enthusiasm shown by all musicians were enough to please a packed theatre.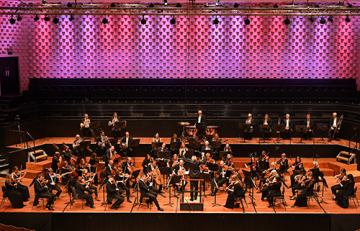 Geoff Prentice, especially, was impressive when he beat the timpani drums – making a sound only ever matched by Thor brandishing his hammer.  
Overall, the show oozed the elegance, grace and drama you would expect from an ensemble so deeply reverted globally.  
A standing ovation was given to the 80-piece orchestra at the end of the show. 
As described perfectly to me by the lady sitting in the next seat, Bournemouth Symphony Orchestra was "overwhelming and moving".