As more fast fashion retail stores are set to close on the high street, we look at how local independent businesses are coping.
Bournemouth's New Look store will join the list of fast fashion stores closing on the high street.
The retailer is set to close its doors for the final time next month after 21 years.
Independent businesses in Bournemouth town centre are doing surprisingly well after bouncing back from an uncertain few years. 
Samuel Old, director of longstanding family business Robert Old 1909, has attributed the success of his business down to customer loyalty, his business model and the government's decision not to lockdown in January.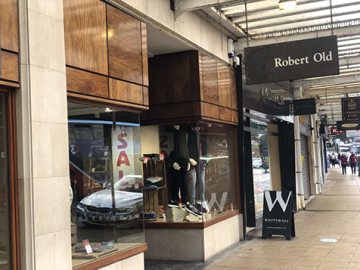 He said: "January is a significant month for traders to go on sale, clear their winter stock and generate cash for new season's deliveries. To be able to carry on as normal has been a relief.
"We offer a lot of suiting and formal clothing and we specialise in how they should fit. These are services you can't find online in the same instance and there is a level of needing to have them physically in order to get the same level of service."
However, it's not just luxury retailers that are celebrating successful business numbers, independent sustainable fashion stores are also doing well.
James King, owner of Bournemouth vintage fashion shop Go To Marketplace, is confident about the future of sustainable fashion. In an interview, he said: "It's a growing market and it's going to overtake high street apparel in the next 10 years.
"Businesses like New Look are struggling more because ASOS, boohoo and PrettyLittleThing are really wiping out the high street."
BCP Council's Deputy Leader, Philip Broadhead, is looking at potential solutions for New Look. He said: "Shops like New Look, particularly when they want to stay, are absolutely vital for the vibrant mix of the town centre."
Councillor Philip Broadhead is trying to secure a place for New Look to move into once their lease ends in February.