The charity is investing in Alexandra Park in Parkstone, Waterman's Park in Somerford and Winton Recreational Ground in Winton. 
The project hopes to improve rewilding, upgrading the cafes and making them more accessible. 
A team of volunteers were at Winton Recreational Grounds over the weekend. 
Melinda McCheyne, who has been the Parks Foundation's activator since May last year, said the charity is an effective way to "engage people through gardening, sports, nature or creativity". 
She added: "It's a two-way relationship. The volunteers get a lot out of it, and we achieve a lot of work with their help.  
"Planting a hedge for one or two people would take a day – we've just done much more than that in under two hours."  
The FPA-funded charity now has 15 committed volunteers who help on a fortnightly basis, as well as volunteers who will come and go – all to plant bulbs, arrange the flower beds and maintain the grounds. 
Josh Clarke, park activator alongside Ms McCheyne, said: "There's a community ownership of this space. People have been coming to Winton Rec for generations and there is a strong dog-walking community. Since the café was built there has been a strong community vibe." 
Mental health is said to be improved by going outdoors to see nature and socialising with people, and schemes such as this can help people who have been isolated or lonely during the pandemic. 
Mr Clarke said: "The last two years have really highlighted the need for social contact and contract with nature. 
"GPs can now prescribe contact with nature. It is really beneficial for us to get out into nature."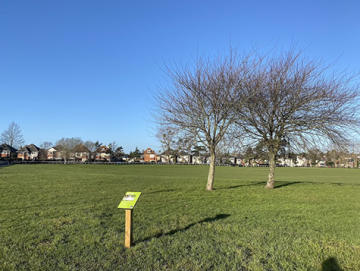 Over the weekend 800 native bulbs had been planted on the east side of the park  
Mr Clarke said a lot of people in the community are happy to volunteer. There was 28 people on hand to help with the planting of the bulbs. 
According to Mr Clarke, the aim of the project is to "engage" the local community. 
He said: "We're not just here to plant, we want to engage the local community and young children, in particular. 
"We want them to regain a connection with nature and improve biodiversity, which we all understand more of now as we are in an environmental and ecological emergency." 
The project, which will improve three parks this month, wants to reach out to a demographic who would not usually get out into nature.