ONE THOUSAND residents have now signed a petition to stop a controversial plan to build a hospital on Poole farmland.
Last week, Buzz exclusively revealed that Highmoor farm had been earmarked as the new location for a Nuffield Health hospital.
But the plans have been met with resistance from Preserve Talbot Heath, which now has over 1,3000 members.
The online residents group, Preserve Talbot Heath, has opposed the proposals by setting up an e-petition . The petition has hit the 1,000 mark, just six days after being set up.
Kerry Batcock, a member of Preserve Talbot Heath and the organiser of the petition, said: "When you visit the farm and enjoy what is has to offer, it is important to remember that this is one of the last spaces around which offers that. I just felt like I needed to try and protect it.
"The green spaces that we've got have slowly been eroded over time. We need to be saving our green space and not developing on it."
Nuffield Health has claimed that the proposed hospital will be part of a new "innovation quarter".
Kerry added: "There's been a lot of talk about how we need a new hospital in the area. Firstly, it's a private hospital so it's only going to benefit a minority of people in the town. There are plenty of other places which they could find. They don't need to develop on Highmoor farm, which will put the precious biodiversity at risk.
"If this can be destroyed, then nothing is sacred. We are moving towards a future where one thing after another will disappear.
"The other day, a deer and its baby came to eat leaves on the trees behind my house. If these plans go ahead, then this will all disappear. It breaks my heart and makes me cry. We should be preserving this land, not destroying it."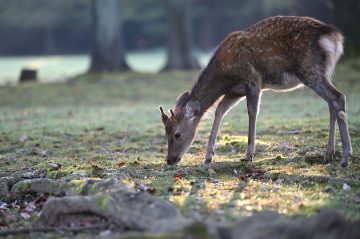 Councillor Philip Broadhead said: "No planning application has been made for this development. Therefore we do not know an exact location within the heathland where the facility will be built. All we have seen so far are indicative plans. Nuffield Health are yet to sign a deal with the Talbot Village Trust.
Mr Broadhead is the Deputy Leader of the Council and Portfolio Holder for Development, Growth and Regeneration.
He added: "There are some very serious concerns with these proposals, especially regarding the four-story car park.
"Highmoor Farm has been allocated for development for a long time, we must find ways of preserving this land."
What is the Talbot Village Trust?
The Talbot Village Trust is the landowner that is renting the land to Nuffield Health.
The current Bournemouth Nuffield Health hospital, on Lansdowne Road, is being relocated to Highmoor Farm.
What have Nuffield Health said about the plans?
A Nuffield Health spokesperson said: "We have been looking at potential sites for a new hospital in the area for many years, due to the increasing need for more facilities in the area.
"However, is it only recently that this particular site has become a realistic option and discussions commenced as a result.
"The local community's healthcare needs are changing so we want to evolve our hospital services, which is why we believe a potential new hospital to replace our existing hospital will better serve the community.
"Our hospital currently provides cutting-edge areas of speciality including cardiac services, endoscopy, robot arm assisted surgery, a private GP service, fertility treatment, orthopaedic surgery, and more. These will all transfer over with more opportunities for clinical innovation will be available to us with a potential new hospital.
"The potential new hospital facilities will serve the evolving needs of the local community but we understand we need to go through a formal planning process first, working with Talbot Village Trust. We are therefore some way off being able to give details on the features we would like to be included at this stage.
"We have been in positive dialogue with the Talbot Village Trust about the potential of a new hospital; both parties are hopeful that we are now close to exchanging contracts soon.
"We are at an advanced stage of negotiations with the Talbot Village Trust and when these are concluded we will be keen to move forward on a planning application. This could be as early as spring this year, depending on progress of the next steps of finalising the plans."
The Talbot Village Trust has been approached for a comment but has yet to respond.
One thousand residents have now signed a petition to stop a controversial plan to build a hospital on Poole farmlands.