Clubs playing in the 5th and 6th tier of English football still have players unprotected from COVID-19, after more than 350,000 cases were recorded in the UK last week.
Weymouth FC and Chelmsford City, who play in the Vanarama National League Premier and South divisions respectively, currently both have unvaccinated players in their squads – like many others. This comes despite the threat of the new Omicron variant and potential rumours of a third lockdown.
The United Kingdom has produced a successful rollout of the vaccine since it was first approved in this country almost a year ago, with the booster jab now to be offered to all adults over the age of 18.
However, after the Premier League announced that just 68% of footballers were double vaccinated back in October, it has now been revealed that there are still many in non-league football also unvaccinated.
Vice-chairman at Weymouth FC, Paul Maitland, said that they "worry about players that are unvaccinated" after he revealed that there are still a few in their squad that are not protected.
"I know that we have a few that aren't [vaccinated], they've chosen not to because they do not believe in it" he said. "The National League and the FA have actively tried to encourage every player to get jabbed. We have records of who is vaccinated and who isn't. We can't make anybody; it is their personal choice."
"Their reasoning for not having it is because they feel they are young, fit and healthy and they don't feel they know enough about the vaccine and what effect it might have [on them] later in life."
The impact on non-league clubs
Weymouth FC, like many others in non-league football, have suffered financially over the past 21 months due to the global pandemic. Maitland, who is also Director of Football, continued to express the importance that their club become fully vaccinated against the virus.
"We understand that the National League would try to sanction us if we could not play a game due to COVID-19, if players are unvaccinated," he said. "We have made the information available to the players and we have encouraged them to do what they feel is right for them."
However, Weymouth is not the only club operating in the National League with unvaccinated players. Chelmsford City, who play in the 6th tier of English football, has also revealed that they too have unprotected players within their ranks.
Head of Medical, Tom Hurding, said that there is a handful of players who have not had both jabs.
"We have got it all on files to see who isn't [vaccinated] and who is, so we have to try and keep track of everything and record it as well" he said.
"We can only encourage them to do it from a medical point of view, but generally we have not had any major break outs recently. There's always a risk but we try to minimise it as much as we can."
Chelmsford City midfielder and former Colchester United player Louis Dunne, made it clear that having unvaccinated players "has a massive impact on the team" and believes that getting both jabs is the best option for non-league footballers right now.
"I don't see any reason why you wouldn't be vaccinated, I know people have got theories about it and all these different things but that's people's choice" the 23-year-old said.
"It's a personal opinion so you're not going to be able to force people to be double jabbed. But for me, personally, I think it's the best way to keep other people safe and not just me."
"I don't think either way but I respect people's opinions, if everyone was double jabbed then we wouldn't have much of an issue."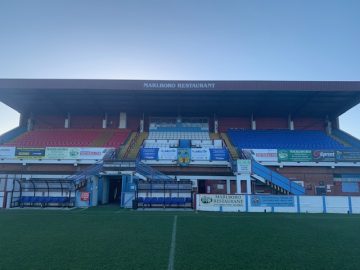 The importance of the vaccine
The impact of the vaccination rollout over the past six months has significantly strengthened the UK's stance within the global pandemic, and has proved to be effective amongst the public so far.
However, rising COVID-19 cases and the new Omicron variant continue to pose a threat to those unprotected each day, with the government strongly encouraging adults to get their booster vaccinations. The boosters will now be made available to all adults over the age of 18 in the UK.
Dr Sarah Buchan, lecturer of Immunology at Bournemouth University, says how "it is massively important," to receive both vaccinations and the booster over this Christmas period – including football players.
"For footballers it's massively important, I think people forget since we've had these vaccines available that had we not got them we would still be in lockdown" she said.
"Essentially they are putting all of their teammates and members of staff at risk. Not just on the pitch but in changing rooms, going out socialising, all of these things will increase the spread of the virus."
"From my own perspective and my own opinion, I personally believe that it could be quite a selfish decision to be playing a team sport if you are unvaccinated – because of the risk you will be posing to other players."
Could the National League soon be impacted?
As we have seen over the past fortnight, Premier League clubs, including Tottenham Hotspur and Manchester United, have struggled to fulfill fixtures due to an outbreak within their squads.
But how many other clubs are in a similar situation? It could now only be a matter of time before National League clubs are impacted as well, as COVID-19 cases keep on rising throughout the country.
As we continue to learn how to control and live amongst the virus, football, and the National League in particular, strongly encourage all players to fully protect themselves against what has proved to be a deadly and costly disease.
Those who don't could possibly be creating football's biggest risk, playing unvaccinated.
With a lack of data presented within non-league football, the future of the National League could still be at stake – as it was 21 months ago when the virus first impacted the beloved game of football.