The popularity of disposable vapes are growing which is causing serious environmental damage due to the single-use nature of the product.
Across Bournemouth, over 90 per cent of young vape users have admitted to taking up the habit over the last two years.
Andrej Kuttruf, CEO of vape company Evapo, now have over 40 shops across the UK, including Bournemouth, because of an increased demand.
He said: "Disposable vapes are a relatively new product category. They were very popular in the US, and now in the UK as well because they take away all the headaches of normal vaping, they resemble a normal cigarette, and they are much more convenient.
"Users can just take it out of the package, use it and throw it away. We find it has become very popular with young people, but we have also found that older people benefit from them as an efficient way to quit smoking."
The uptake of disposable vape usage in young people has caused concern in recent years and was even labelled an epidemic in the UK.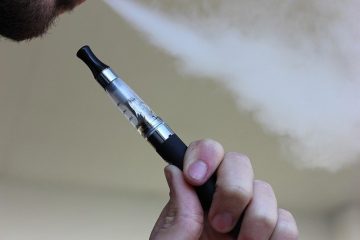 Andrej stresses that his company's ultimate goal is to help people stop smoking rather than start.
"The uptake of young people is always a double-edged sword. We don't want to see people taking up vaping who are non-smokers. So, we are very strict in terms of our age verification policies and many times refuse sales because we don't want to get people, particularly young people, addicted to nicotine if they didn't have a prior nicotine addiction.
"We always ask people about their smoking background and if they don't have a prior smoking habit, we advise them not to start vaping because it is really designed to help smokers quit, and to switch to a far less harmful alternative."
The disposable vape scene is now being held under scrutiny as their parts are made of several materials that cause significant damage to the environment if disposed of carelessly.
Andrej said: "The environmental aspect of disposable vapes are a challenge and I don't think there's a perfect solution out there yet. We have looked at various battery recycling schemes but it's not easy because there's so many different parts.
"It is a challenge, but we focus on the little things we can control. We ask our customers to dispose of them responsibly. To offset carbon pollution, we plant a tree for every four disposable vapes sold. We also switched all our energy consumption to renewable energy last year, and our vape liquid bottles are made of 60 per cent recycled plastic.
"If we see individuals buying disposable vapes regularly, we encourage them to transition to other products that produce less waste using promotional offers."
Local environmental campaign group Gaia have expressed their concern over the increase in disposable vape usage as single-use plastics are one of the biggest threats to the environment.
Gaia representative Hannah Martin said: "Single use plastics like disposable vapes are bad news. People litter which is a direct threat to the local wildlife. And then as they decompose and start to break down, they become a microplastic, which then goes into oceans and causes further pollution. So, it just goes on and on.
"I would encourage disposable vape users to be mindful when disposing of them, or to look at using a more durable alternatives."
Although disposable vapes are cause for concern, Andrej hastened to add that, "cigarettes are a huge polluter and the many millions of cigarette tips which people throw away on the street often end up in the ocean. So, from an environmental perspective, vapes are not perfect but I do think it's still a massive step forward."