By Ellie Hawkins
Due to the cost-of-living crisis we currently face in the UK, many people across the country are struggling with the increasing prices in energy, heating, food and much more which is a growing worry for members of the public, businesses and other organisations especially as we head towards the winter months and Christmas. In a recent survey by the BDO, one fifth of big companies expect the cost-of-living crisis to affect their business more than the global pandemic. But what about smaller, local businesses, how will the crisis affect them?
One small business, Isla Jayne Crafts is a small online jewellery shop based in Bournemouth. As well as her online shop, Isla began attending markets in spring this year to try and reach more local people. She has already seen a slight drop in sales online although markets are still doing very well. In her home life she is having to cut back on things such as heating, and going out, but despite this she is trying to "keep her prices down as much as possible to avoid losing customers." Isla explained that she would like to see the town centre embracing small businesses more: "Bournemouth is mostly empty shops or the same high street chains as every other town. 'Bobby & Co' do a great job of bringing the two worlds together, big brands and small local artists."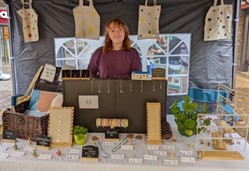 Isla Jayne Crafts image
Local nail artist Karrina Randall has her business, 'Nails by Karrina' which is based in Boscombe. She also has already seen the impact on her business. Due to her supplier prices increasing she has been "left with no choice but to up service prices". Karrina has seen a drop in appointment bookings due to customers wanting to be more careful and spend less. "People are more reluctant to treat themselves and get their nails done."
Rochelle Burgher started up her business last year, 'Moments Like These Events' which offers professional balloon displays and events styling. Rochelle explained that many of her clients are large corporate companies. She has found that these larger companies often put a budget aside for events due to them having a large amount of money and so has not seen any reduction in business in this way. She also added that she has not seen many individual clients reluctant to spend money due to the way in which it is a luxury service and not a necessity, people "come to balloon decorators and stylists because they have that extra money, whether they have saved it or have the budget."
Small businesses will be hugely affected as we head into winter, owners have seen that people are already cutting down on luxuries, such as beauty services, as for many customers that could be the difference between having a warm home or not.