Written by Ryan Skone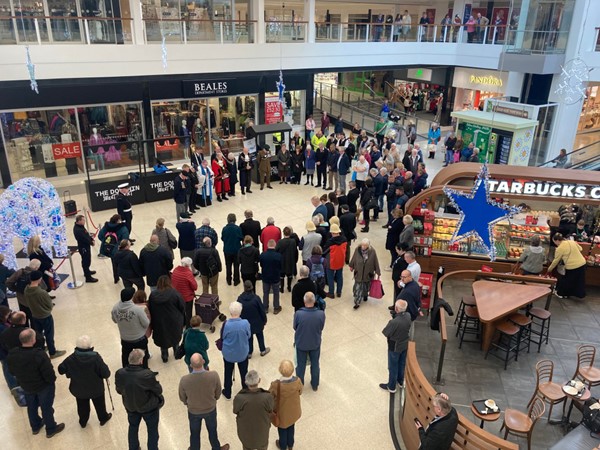 Poole's Remembrance Day celebrations, attended by Mayor Tony Trent. Credit: Ryan Skone
"Lest we forget". The three words echoed in the minds of everyone in Dolphin shopping centre as Poole fell silent for the 101st annual Remembrance Day, paying respects to everyone that served in the war and other conflicts around the world. Over a century later, November 11th is still such an important date for so many across the country as at 11am, the country comes to a halt to honour those who gave their lives for our future.
Lauren Chilton, community fundraiser for the Royal British Legion (RBL), said: "It's so important because right since the first world war the armed forces community are still serving and still protecting us and they still make great sacrifices for us too and now Remembrance represents all of those that have gone before us and those that are still to come."
This Remembrance Day is the first since the passing of Queen Elizabeth II. Sophie Garrod, Royal British Legion's press officer for the south of England, stated: "The Royal British Legion is paying tribute to Her late Majesty the Queen during Remembrance this year in honour of her military service and unwavering commitment to the Armed Forces community. The RBL is remembering The Queen's extraordinary support as the charity's patron for 70 years, her own military service, and her role as Head of the Armed Forces."
And with this being the first Remembrance Day in three years without any covid-19 restrictions, there were ceremonies all across the Bournemouth, Christchurch and Poole, most notably in central gardens where hundreds of people crowded around the war memorial to pay their respects. The service was attended by families, veterans and cadets, with the Salvation Army Band providing music and the Field Gun Display Team for the two-minute silence.
"With the conflicts that are going on in Europe ongoing now it's important to recognise the sacrifices that our fathers made", said Daniel Smith, who was at the event.
Simon Meerza is a fundraiser with the Royal Naval association, his grandfather was in the first world war and his father was in the second, he said: "900,000 people died in World War One and in the second 550,000 including civilians that were bombed in the blitz, so we remember the people who died. We also remember the people who died in Iraq Gulf War and after and in Afghanistan last year, we lost over 400 people there and I knew 2 of them personally."
And as the clock struck eleven, Bournemouth fell silent to respect the legends of our past, the soldiers of the present and the heroes of the future. Lest we forget.