Following an oil leak from Perenco, the UK's largest onshore oil field, the public is being advised to avoid using the water and beaches in Poole Harbour.
The incident, according to Poole Harbour Commissioners, happened at a Perenco-operated pipeline on March 26th.
Approximately, 200 barrels of reservoir fluid, including 15% of oil, had escaped into the seas of Owers
Bay after the initial leak at Wytch Farm oil field in Dorset.
After this incident, The Extinction Rebellion were protesting against Pernco at Poole Harbour on Monday.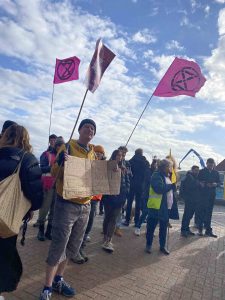 Local resident, Hannah Lindner said that she was "fuming" and "horrified".
"We knew this could happen",
"We protested back when the oil rig was out in Poole Gates a few years ago," she added.
One protestor, Karen Windhurst said: "Wytch Farm has been going on since the 70s, it should be shut down".
"Prenco when they took over, have a dreadful track record".
 "They shouldn't be allowed to continue with all extractions in our home county", She said.
The Birds of Poole Harbour Group (BoPH) had released a statement following this incident.
BoPH said: "The fact it's happened right in the middle of such an environmentally important area is incredibly worrying".
Karen Windhurst added: "This is going to affect all the wild life, the birds, the sea life for years to come".
Hannah Lindner said: "Things like oil spills which have just happened here are a threat to the ecosystem, to the wildlife and to the people that live here".