Team GB's Ellie Aldridge is starting her preparations after being selected for Paris 2024 – but isn't fazed by the occasion.
The 26-year-old, who hails from Poole, is looking to make kite foiling's first appearance in the Olympics a memorable one for herself and Team GB next year.
Kite foiling is one of two new sailing disciplines for Paris 2024. It sees athletes 'fly' above the water riding boards with hydrofoils on, propelled to speeds of more than 50mph by enormous kites.
Talking about the selection process, she said: "I'm happy to be selected now, as otherwise the process can go through the whole winter, so I've got more time to prepare and get ready."
Despite the ground-breaking nature of the event, she refuses to be overawed.
"My mindset and preparation won't change. I need to make sure my kit and everything is ready, my training is rounded and complete, and my mindset prep is done.
"I know I'm good enough. I need to ignore the noise because I know I am."
Elements of that preparation will differ to normal, however, as she prepares to face the temperatures of Marseille.
Aldridge said: "I'll be spending quite a lot of time in Marseille, in the gym and running heat training.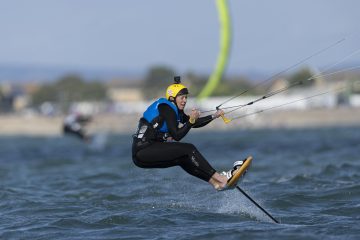 "They did it for Tokyo – they set up bikes in a heat tent and by the end you're dripping with sweat! I'll be in Marseille from May up until the Games."
Aldridge will be counting on the support of her family in France – despite the fact they weren't always confident she would rise to the sport.
"My family weren't overly knowledgeable on kite foiling, and my Mum would ask when I was going to get a proper job," she joked.
"That said, they've always been supportive, and I'm pretty sure that they'll be there next year."
The Paris Olympics start on July 26 and runs until August 11.
What is kite foiling? Read more here.