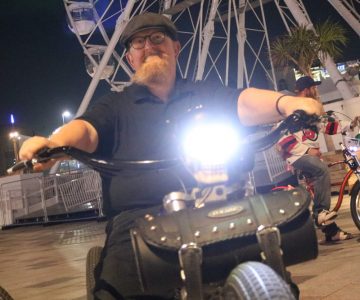 Photo credits: Fynn Lacey
Bournemouth is home to it's very own "Hell's Angels"- but they're family friendly, welcoming-and looking for new members.
South Coast Cruisers is a biker gang-but most of the men involved have wives and children and are very careful to mind their P's and Q's. Then there's the fact that all of these bikes are hand-made, custom cycles.
Although the group style themselves on the American biker gangs, they are quick to point out they are friendly and want to get people out and about " it's family friendly, we mind our P's and Q's and we want to keep a clean public image."
Every Wednesday at 8:30pm(weather permitting) a posse of these bikes ride from Bournemouth pier to Boscombe and then to the Harvester Pub for a pint and food, with all bikes being welcome.
We interviewed Dan, one of the leaders of the South Coast Cruisers: "I started with mountain biking originally, I rode with one of these guys in another cruiser bike groups and straight away, I was hooked"
Cruiser bikes is the hobby of building and riding bikes with enormous wheels and handlebars which are created for style and comfort over speed.
The hobby originated in California and spread throughout America, before hitting a different kind of sunny coast and reaching Bournemouth and then the rest of the UK.
For this club though, it's much more than a hobby,  when asked if he loves his bike Dan replied "Oh yes, as much as my wife and you can quote me on that"
The group ranges in backgrounds and ages, all the way from young men in their late 20's all the way to men with wives and children but they are all united by a shared passion for this unique hobby.