The Terras were successful in being promoted in the summer to the National League, but Mark advised how tough it was to set up: "We had to raise funds. We put out an appeal to fans and raised over £30,000 to get the play-offs on. In the summer it was very difficult with no financial backing".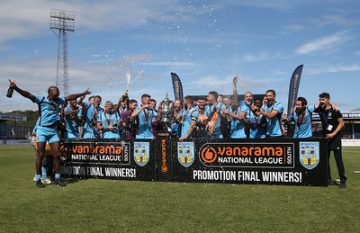 Going into the new season, a grant system was set up by the National League for all clubs. Mark voiced: "We were grateful for what we received, and it has helped us to survive."
Early November saw an outbreak of Covid-19 within the club forcing them into full isolation. "The league told us to shut down all football activities."
The National League confirms that following a high number of Covid-19 positive tests, Weymouth FC has been placed into full isolation until 16th November under a High Alert category

Full league statement on our website https://t.co/7RGKWegfX6

— Weymouth FC (@theterras) November 6, 2020
Weymouth FC have "very strict protocols" to ensure Covid-19 exposure is kept at a minimum. These protocols are devised from a guide from the league. The club are then responsible to customise it how they see most appropriate.
The Dorset Safety Advisory Group are the general organisation that provides the certificate for clubs to safely hold matches with crowds. Through Covid times, Mark stated "their job has been to make sure protocols are robust. Anything we do we must run past them"
Currently, the club are held to a 450 person capacity following the test event versus Halifax Town. This was agreed with the Dorset Safety Advisory Group due to poor behaviour from a select few fans on the day. Mark expressed "It did not go particularly well which is why they are acting cautiously which we cannot argue with."
Read more on Weymouth FC here: