The National Deaf Children's Society have claimed there is positive news on their campaign to introduce a GCSE qualification in British Sign Language (BSL).
In what they describe as a 'brilliant step forward', the NDCS are hopefully young people will be able to take the GCSE 'within the next few years'.
A campaign to introduce the BSL GCSE started a few years ago, when the NDCS's Young People Advisory Board decided they wanted to pursue it.
Alongside the campaign, the NDCS released a survey to both deaf and hearing young people and found that over 90% of young people had an interest in learning sign language and wanted a chance to learn it in school.
Lindsey Valkenborgs, Campaigning Officer at the NDCS, said: "Sign language is an officially recognised language already, and for some deaf people it is their first language. So, for those deaf young people in particular it would be amazing if they could work towards and gain a qualification in their own language."
Lindsey Valkenborgs from @NDCS_UK discusses their campaign to introduce a British Sign Language GCSE#qualityeducation pic.twitter.com/zYW8JqHcSz

— Buzz News (@buzz_bmth) January 21, 2021
Lindsey further praised the idea, saying: "Ultimately, I think it would be a brilliant opportunity for deaf and young people alike to learn a new skill, to learn a new language, and to have that opportunity to communicate better together.
"In some ways, it's a really big step forward towards equality."
Under the Equal Opportunities Act, 2010, local authorities are required to provide the facilities for families with deaf children to learn British Sign Language.
However, Lindsey believes that "only about half of local authorities actually offer the opportunity to learn sign language."
"What we ultimately want is for every deaf child and every deaf family that wants to learn sign language to be able to do that," she added.
The BSL GCSE is currently being developed by the government, and Lindsey is hopeful that young people will be able to take the exam in "a few years time."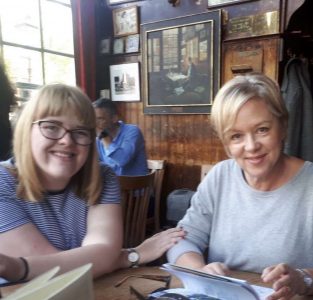 Sarah Colbourne, 57, is the mother of Imogen, 23, who is deaf, and is fully behind the introduction of the qualification.
"I think it would be really beneficial. It would be a really good idea as it would help deaf people participate more fully in society," she said.
"If everyone knew sign language it would make everyday things, like colleagues you work with if they knew sign language, that would make life so much easier for deaf people."
Sarah also praised the prospect of her daughter having more independence. "She is dependent on sign language for communication.
"If sign language was more widespread in society, she would be able to go into shops and make people understand what she wanted, she'd be able to get on the bus and communicate with the bus driver. A million and one things really."
What do you think about the introduction of a BSL GCSE? Would you take it? We would love to hear your thoughts – tweet us @Buzz_bmth and use the hashtag #qualityeducation
Read More: